Bournemouth is easily accessible by car via the M3/ M27, A31 and A338. There are direct trains from London and Southampton, and Bournemouth rail station is just over 1 mile from the town centre. We are 7 miles from Bournemouth airport and buses or taxis can bring you directly into the town centre from both the rail station and airport.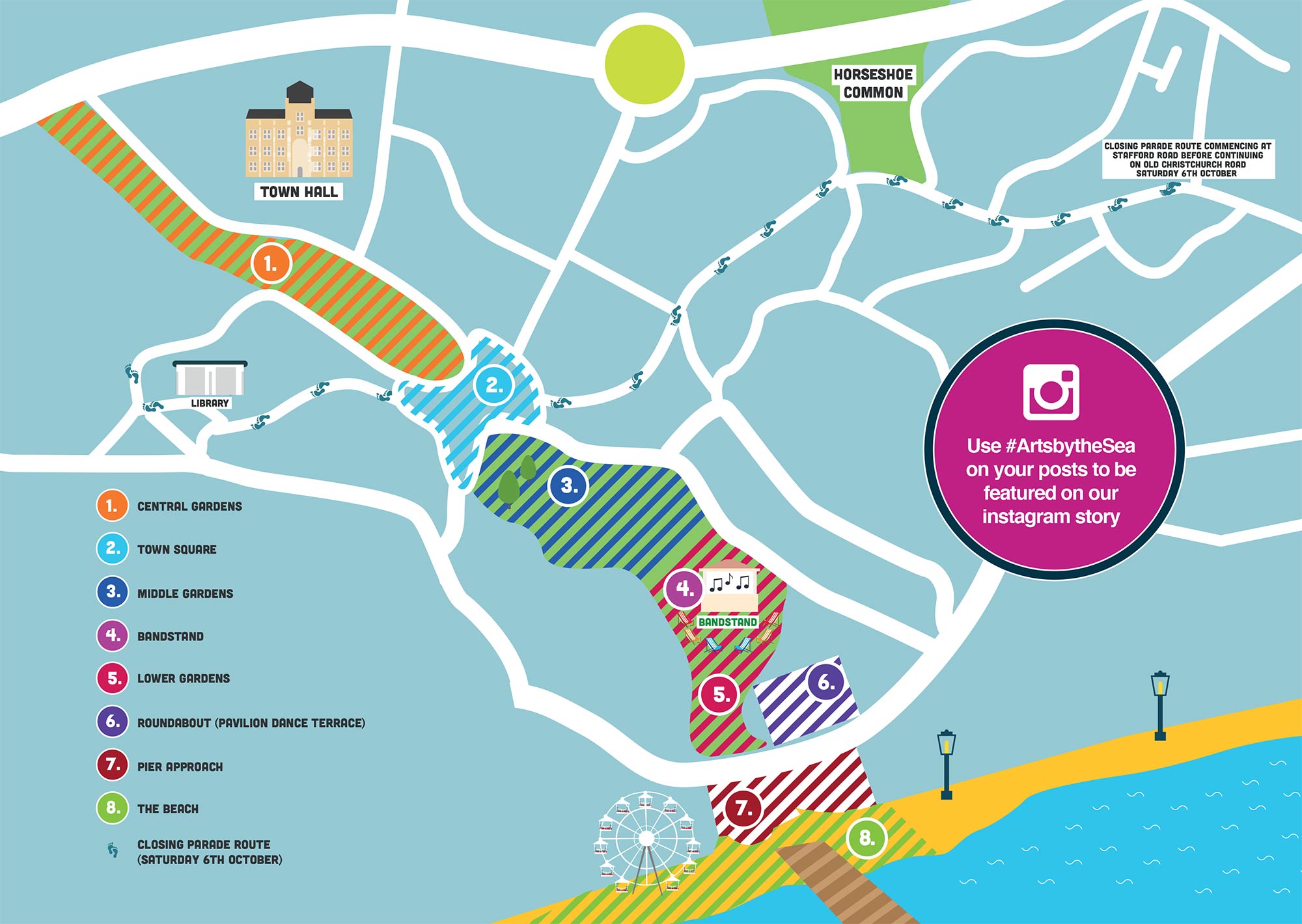 Getting to the festival site:
The majority of events and performances take place in the town centre, located around the Central Gardens, Town Square, Lower Gardens and Pier Approach. The different festival zones are on our festival map.There is plenty of parking in the town centre but why not catch the bus or cycle. Yellow Buses are our official travel partner and are running special offers for festival-goers. We've mapped all the cycle parking in the town centre on the green tab of this website.
You can find more travel information using the links below:
Yellow Buses: https://www.yellowbuses.co.uk/
More Bus: http://www.morebus.co.uk/
Sustainable travel: https://www.gettingabout.co.uk/homepage.aspx
Parking: https://www.bournemouth.gov.uk/Parking/Parking.aspx
Most of our events are free and unticketed. Bookings for all ticketed shows can be made through our main ticket provider Pavilion Dance, in person, through their website or over the phone. For some shows, bookings can also be made through the performance venue.
Online: pdsw.org.uk
Telephone: Pavilion Dance Box Office on 01202 203630
In person: Pavilion Dance South West, Westover Road, Bournemouth, BH1 2BU (entrance via Lower Gardens or using the lift/ stairs from the Pavilion to Pavilion Terrace).
Box Office hours: Monday to Saturday, 10am – 5pm (open late during performances and events).
Please note, a booking fee may apply. There is no charge through Pavilion Dance for credit/ debit cards.
Complimentary carer tickets are available for ticketed shows.
We welcome visitors with disabilities and accessibility needs to all our events. For information on accessibility in and around the Town Centre and Gardens, please see our Accessibility Guide.
Arts by the Sea Festival Accessibility Guide
Email us at arts.bournemouth@bournemouth.gov.uk. You can also contact festival venues direct to find out about accessibility within their venue: Pavilion Dance: 01202 203630 and Shelley Theatre: 01202 413600.
For information on disabled parking in the town click here.
For information on accessible toilet facilities on the Seafront click here. For RADAR accessible toilets in Bournemouth click here.
There are accessible toilet facilities in the Lower Gardens.
Complimentary carer tickets are available for ticketed shows through our ticket provider Pavilion Dance.
Why not visit our Information Bus, provided by our official travel partner Yellow Buses and located in the Town Square. Here you can pick up a festival programme with full listings of events and talk to our friendly volunteers for more information. Our volunteers will also be on-site during the festival and easily identifiable in pink t-shirts to help you make the most of your day.
For more information on Bournemouth, including places to stay, food and drink, and places visit while you're here, visit our Tourist Information Centre located in Pier Approach or click here: https://www.bournemouth.co.uk/visitor-information/tourist-information-centre
We'll be filming and photographing during the festival and will share footage on our website and social media channels. Photography and video may also be used to promote Arts by the Sea in various local and national media. By attending the festival, you give your express consent to your actual or simulated likeness to be included within any film, photograph, audio and/or audio-visual recording to be utilised in any media for any purpose at any time. If you have any concerns, please contact us at
arts.bournemouth@bournemouth.gov.uk
.
Performance information is correct at time of publishing but changes can and do occur. Performances will continue if it's raining as long as it is safe to do so. Check the Whats On guide on this website, download our App or follow us on social media for up-to-date details.
Festival events generally start at 12:00. For exact performance times for all events, check the Whats On guide on this website or download our App.
For full listings and more information, check the Whats On guide on this website, download our App, or pick up a festival brochure from Bournemouth libraries or (during opening weekend) the Information Bus in the Town Square.
For General Enquiries you can contact us at arts.bournemouth@bournemouth.gov.uk or 01202 454746.