Arts by the Sea was launched by Bournemouth Council in 2011 and has grown from strength to strength, becoming an Arts Council England National Portfolio Organisation in 2015. The festival is Bournemouth's annual celebration of art, culture, people and place, through which we strive to enhance a sense of community and raise Bournemouth's profile on a national scale as a leader in culture.
Our festival is an intriguing, exciting and unique carnivalesque celebration of art across many forms. Participatory experience, diverse music, art and dance, site-specific installations and large-scale spectaculars in Bournemouth's beautiful locations are key to our programme of events.
We aim to increase opportunities for people to participate in the arts, incorporating experiences that offer depth, insight and excitement for our audience. We value work that can make a strong impact on our audience and our town, supporting artistic work that is relevant, connects with and is meaningful to our audience. Inclusivity, accessibility and diversity are at the heart of Arts by the Sea and we value talent and high quality work supporting emerging and established artists.
As a festival that takes place in a coastal location of outstanding natural beauty, we recognise in the importance of safeguarding our natural environment and are working hard to reduce our impact on the environment.
The festival is funded by Bournemouth Council and Arts Council England and produced by the Cultural Development and Tourism Events teams at Bournemouth Council, under Festival Director Andrea Francis. Curation of artistic content is provided by From The Fields and Marketing from
HotShot Creative Agency
.
From the Fields
From the Fields Ltd provides bespoke curation services to festival clients, programming Arts by the Sea since 2016 under the artistic leadership of Creative Director Dr Roxy Robinson.
From the Fields Ltd is a passionate collection of producers, bookers and marketers with a strong record of delivering award-winning and critically acclaimed programmes. The company name references its roots in the green-field festival scene, where it has established an exemplary reputation from organising flagship events Kendal Calling (capacity 25,000) and the science, music and culture mashup Bluedot (capacity 15,000).
FTF has worked on an extensive range of creative projects, from town centre parades through to projection mapping the Lovell Telescope at the Jodrell Bank Observatory, not to mention its musical curation – which has included Manic Street Preachers, the Stereophonics, the Chemical Brothers, Sigur Ros, Snoop Dogg, Mumford and Sons, The Pixies, Orbital, Blondie and Dizzee Rascal.
http://fromthefields.co.uk
https://www.kendalcalling.co.uk
https://www.discoverthebluedot.com
Innovations in the realm of digital technology are accelerating. The 'Internet of things', the automation of traditional services and the ubiquitous nature of big data have transformed many societies over a remarkably short period of time. Technology is generating tools and solutions in many developed parts of the world, yet it has also created its own unique problems – from cyber attacks to social media addiction and the dark web. With technology unlocking ever-new potential, while generating many unforeseen challenges, how will technology shape the future prospects of the human species?
The 2018 Arts by the Sea theme will highlight both local and global reflections for what may lie ahead. As the pipe dreams of science fiction begin to parallel modern realities, our visions of the future vary. Some argue that the Internet is now the 'air we breathe', and will continue to redefine human civilization as developing countries connect. Others predict the continued proliferation of the digital industries as new innovations, such as self-driving cars and even planes, approach on the horizon. In the longer term, breakthroughs in space travel, clean energy and medicine, and the conquering of illness and even death, seem not outside the eventual reach of humanity.
Festival-goers are invited to join us in exploring visions for the future through a diverse programme of art in Bournemouth's most iconic locations. This theme also celebrates the evolution of its host town – a town with ambitions to become one of the UK's leading digital economies by 2020. Fast-becoming a hotspot for digital innovation, and lauded as a critical location for growth in high tech businesses, Arts by the Sea 2018 will engage with Bournemouth's growing potential for fostering digital creativity.
Arts by the Sea is grateful to all our supporters and partners who help us produce such a wonderful event. If you would like to work with us in the future, please contact us using the Opportunities links below.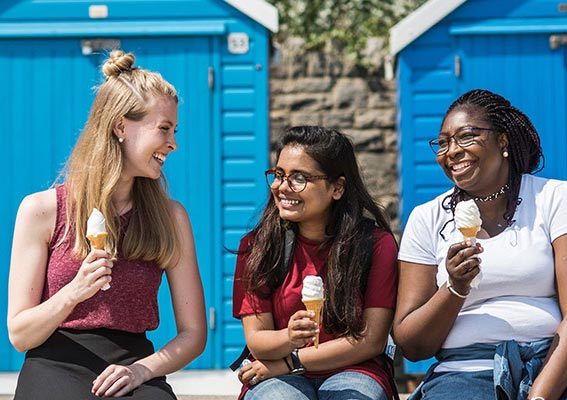 Bournemouth University
Arts by the Sea is delighted to have partnered with its Gold Sponsor for 2018, Bournemouth University. With a range of intriguing artwork and film created by award winning researchers and content-creators, Arts by the Sea festival is hosting 'Depth of Field: Research through Film' – a new collaboration which is hoped to continue into the future.
Throughout the festival, a screen in the Town Square will showcase this digital exhibition curated by Bournemouth University from short films and digital media created by its own researchers and academics. The festival is grateful to be able to host this work, which brings a unique strand of content to Arts by the Sea to excite and intrigue all.
"We're delighted to have partnered with Bournemouth University this year, to bring about a unique selection of digital artworks to Arts by the Sea. Showcasing audio-visual pieces that explore research themes through the medium of film, Depth of Field: Research through Film will provide a fresh and contemporary strand to the festival programme while drawing attention to important work undertaken by local academics." – Dr Roxy Robinson, Creative Director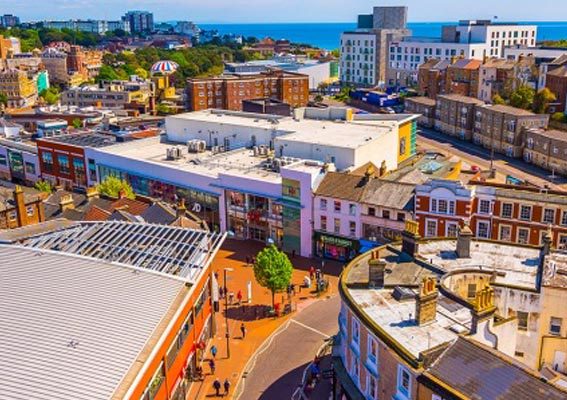 Town Centre Bid
We're delighted to be working with the Town Centre BID this year who have provided sponsorship towards the Arts by the Sea closing procession, 'Circus Folly: a Night Carnival'. Both Arts by the Sea and the BID aim to increase the number and diversity of people enjoying the town centre, so this has proved an ideal partnership. Investment from the BID has allowed us to increase the scale of this event and route the procession through key target BID locations, enabling local businesses to showcase their offer throughout the daytime and evening. Horseshoe Common will host a number of surprise 'taster' performances from parade artists throughout the afternoon, as well as performances from the much-loved local ensemble, the Love Soul Choir. Visitors can also expect mouth-watering samples of street food from local traders. Later in the evening, the 7pm procession will pass down Old Christchurch Road, through the Town Square and onto the Triangle. Visitors are encouraged to support local businesses before and / or after the parade by visiting mouth-watering array of restaurants and food traders in the area, in particular along on Old Christchurch Road.
"Our closing procession, Circus Folly: a Night Carnival promises to be a colourful explosion of colour, costume and beautiful puppetry, by the UK's leading carnival-creators, the Shademakers. We'd like to offer our thanks to Paul Kinvig and the Town Centre BID team for supporting the procession this year. With a range of local schools and organisations involved, this will be a truly exciting and participatory spectacle not to be missed." – Dr Roxy Robinson, Creative Director